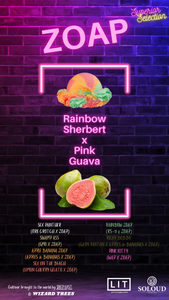 WHAT IS ZOAP?
ZOAP was originally created and bred by DEEP EAST. Through collaboration with WIZARD TREES, DEEP EAST selected the final cut (#21) from their Rainbow Sherbert V2 x Pink Guava #16 cross. WIZARD TREES went on to cultivate the strain for their market. Needless to say, ZOAP is now world renown. 
This selection has complex, deep terps, with fruity (guava), sherbert flavors, taking after her lineage, combined with earthy undertones and  essential oil/ soapy notes. 
The Soloud Group recently released our Zoap S1
The breeders at Lit Farms worked their Zoap cut into a few of their previous crosses and some of the most popular cultivars in the industry today!
LIT FARMS ZOAP CROSSES
SEX PANTHER (FIRE CROTCH X ZOAP)
APPLE BANANA ZOAP (APPLES & BANANAS X ZOAP)
SEX ON THE BEACH (LEMON CHERRY GELATO X ZOAP)
RICKY BOBBY (GARY PAYTON X APPLES & BANANAS X ZOAP)
Freebies: Croissant (Pancakes x Zoap)
---