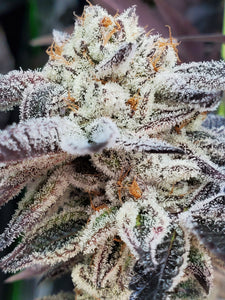 What is OOOZE Strain?
Let me tell you, OOOZE is an outright testament to how expertly Max Yields conducts hunts and breeding lines. Yes, this cultivar is frosty AF, DEEP purple and she's picture perfect. That's not all... Her flavor is creamy, chocolatey and sweet. Right on the money! 
Take a peek into the lineages: With none other than Cookies & Cream by Exotic Genetix as the father and Cheese Quake x White Widow as the Mother (Secret Weapon by Vandal Genetics). It's no wonder where Max Yields' head was at while creating OOOZE. We're absolutely getting the smooth creaminess and cocoa nose and flavors. She's got a decent amount of funk to her too ensuring she packs a pungent punch!
---
1 comment