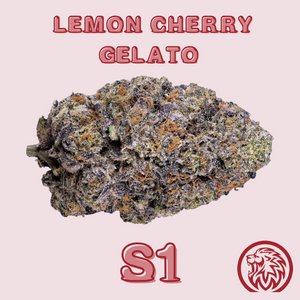 Lemon Cherry Gelato S1
Lemon Cherry Gelato x Lemon Cherry Gelato. (BackPackBoys Cut)
Available NOW!
Breeder: Unknown. 
Type: Indica Dominant
Flowering Period: 58-65
The origins of Lemon Cherry Gelato are mysterious to say the least. It is said to be a cross of Sunset Sherbet x Girl Scout Cookies and an unknown strain. Undeniably the best rebranding of Gelato since Runtz! Her flavors deliver mouthwatering fruity, berry, citrus sweetness, very enjoyable and smooth. Followed by a relaxing, yet sociable effect. Our Lemon Cherry Gelato S1 seeds consistently grow ideal sized colas without much stretch, they're easy to work with and a breeze to trim! 
---